About BIOSPassmaster
BIOSPassmaster.com provides laptop BIOS Master Passwords that successfully unlock BIOS locked laptops by all the major PC manufacturers – Dell, HP, Acer, Asus, Lenovo, Alienware, Fujitsu, Samsung & more. We also unlock Bitlocker-encrypted hard drives too.
In general, when you enter a wrong password into a BIOS-locked laptop, the laptop will respond with a message like "This laptop ABCD1234 is locked. Enter password to continue". The ABCD1234 ID is the Challenge Code, an encoded representation of the BIOS Master Password required to gain entry. Our skill is in deciphering that Challenge Code so that you can use your laptop.
Challenge Code examples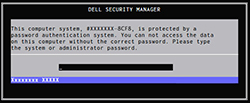 Dell

Fujitsu

Samsung
We don't expect you to be an experienced tech genius with previous BIOS unlocking experience so we offer free live support to enable you to unlock your laptop successfully, quickly & easily. For live help with your BIOS password, hit the green Contact Us (via WhatsApp) button.
Some laptops have different ways to reveal their Challenge Code. Find out how to reveal yours by clicking the green Support button in the lower left corner..
Unlock Dell XPS, HP Omen, Alienware Area 51, Asus Zenbook, Acer Aspire, Lenovo ThinkPad & many, many more popular, current & late model laptops here.
We guarantee our passwords 100% or your money back. Invest risk-free with BIOSPassmaster.com – we will unlock your laptop or refund 100%.
When you place your order you'll receive a detailed email containing your BIOS Master Password & explicit instructions on how to unlock your laptop.
Live, real person, real time support is always available – hit the green Support button in the lower left corner. – we're here to help.


BIOS Master Passwords, Dell BIOS Master Password, HP BIOS Master Password, Lenovo BIOS Master Password, Acer BIOS Master Password, Laptop BIOS Master Password, BIOS Password Generator, Mikrovr, Dell Password Generator, Lenovo Password Generator, HP Password Generator